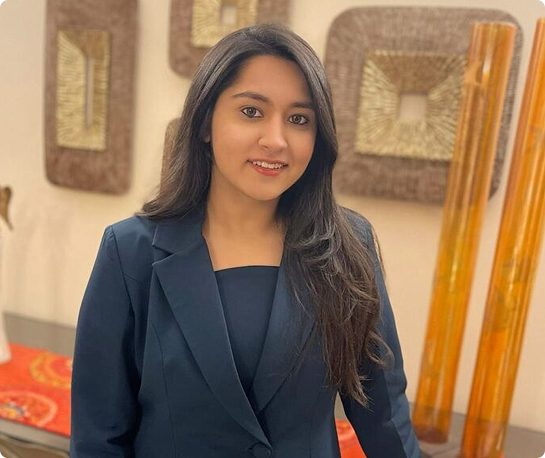 I'm
Navya Mehta

International Certified Career Coach
Emmversity global Solutions LLP is a brainchild of Ms. Navya Mehta who is a graduate of Indiana University- Kelley School of Business, USA and also an International Certified Career Coach.
Our Director, Navya Mehta, graduated from a top 10 business School in USA- Kelley School of Business at Indiana University Bloomington. While studying, she also mentored 200+ students and saved more than USD 90,000. College smart is created with a purpose to empower students with the right knowledge to make informed career choices and be more College Smart! Our goal is to make quality education affordable and to transform the lives of each student we come across by helping them get into their dream university.
College can be a huge transition and it's only best to prepare yourself for it smartly. We aim to help students reach their best potential by optimising opportunities. We help students from class 9 and onwards for their undergraduate or post graduate needs and applying to universities in India or overseas.
Our students have been admitted to various top universities
Our goal is to help you practically explore your career interests and
be College Smart by getting into your dream universities
Our goal is to build a strong foundation for the student based on his/ her interests. We help them merge their interests, passion and skills to build an impact. We help right from career counselling to defining goals for the future as well as developing them holistically through projects and programs. Through career exploration we are able to provide students the confidence they need while making their career choices. Additionally, shows strength in their profile for activities focused for a longer duration. We also help you plan your summer schools and guide in other life skills.
Our goal is to help you develop your profile holistically and unique to you such that it represents you while making you stand out. We connect students to national and international opportunities that fit best for them. A unique timeline is created for each student, giving them sufficient time to prepare for standardised tests and submitting the best quality application. From shortlisting to essays and scholarships to Visa, our team is always only a call away.
While each university/ college has a different process, requirements and deadlines, we have streamlined the process for you and guide you through the process to apply to some of the best universities in India. Our team works tirelessly to ease the process for all and help students get into their dream colleges and universities with scholarships.
Our goal is to help students applying for Masters degrees to curate their profile in a unique manner and guide them while submitting their applications for Masters, MIM, MBA, etc to all major countries. We help from streamlining your story to presenting your story creatively in the application to help make you stand out! From shortlisting to essays to final decisions, we are there to support you through it all.
Young Founder Summit-Our Signature Program
YFS is North India's most prestigious competition for high school students. Students engage in a 3 day intensive entrepreneurship practical experience to finally present their idea in front of angel investors and other 250+ people.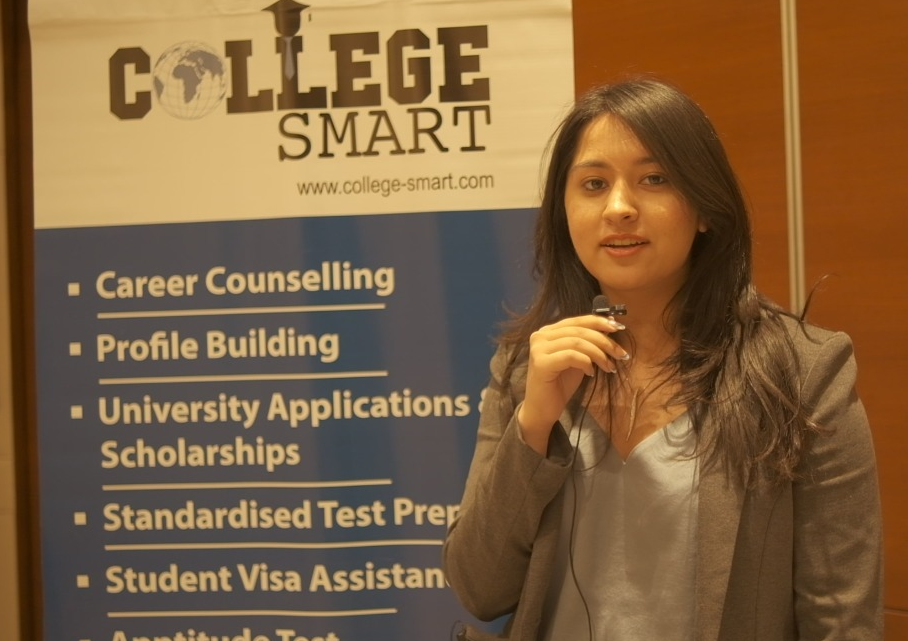 At College Smart, whether you are applying abroad or in India- we help you become a better version of yourselves who is better prepared for their career. Join us to take a leap

Best Results
Our team is constantly focused on adding value to you so that you can reach your best fit dream university

Personal Mentorship
Each student is directly in touch with our senior counsellor alongside a personal mentor and is connected with our alumnus in the top universities to seek guidance from

Life Skill Training
Besides helping you get into your dream universities, our goal is to help you develop yourself holistically- from building your communication skills to helping you with time management
Student Community Feedback
Navya Mehta
International Certified Career Coach
Latest News From Our Blog
India has been observing a spur in the number of students who want to study
It is really not difficult to decode what top Top universities look for. While they
It is a common myth by people that studying abroad is expensive. Yes, it can